Found an interesting bug today in a Sitecore 7.5 installation and I think it is worth sharing. I have to mention that Sitecore Support has been notified and they are working on an official fix.
I have noticed this issue after I upgraded from version 7.2 but also on clean installations. If you navigate to this path in Sitecore: /sitecore/system/Marketing Center/Engagement Plans you will see that all the display names of the engagement plans, states, conditions and actions are "__Standard Values".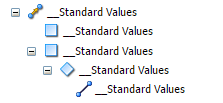 This is because the templates of all these items have the Display name field set on their __Standard Values to be "__Standard values" or their translations (f.ex. __Richtwerte in German language).
Those fields should be empty off course.
I have to give credits to my colleague Brian as he was by my side when we discovered this bug.
System Developer at Pentia. I have been involved in small and large scale projects using Sitecore and .Net for the last 4 years. I am Sitecore certified developer since 2009. I have a Master degree in Computer Science from University of Southern Denmark. More detailed info about me can be found on my Facebook and LinkedIn pages.